Hello and welcome to The Bonnie 5! Today I'm being featured on Mama's Little Nestwork. I was so honored when
Mama Hen
asked if she could feature me as one of her "artistic bloggers." I am fairly new to photography, even newer to blogging, and I couldn't believe she chose me for her very first feature! Congratulations to Mama Hen on starting her Nestwork. She is such a sweet friend, an inspiration to so many, and a fantastic and FUN mommy to Little Chick!
Check out Mama Hen's Little Nestwork to read all about it.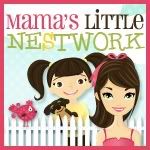 And now for the introductions! :-) My name is Karli and I am a mom of three; two sweet boys and one wild baby girl. I love my family and I love photography, and I find great joy in combining the two. I am not a professional, I do not have my own photography business, it is just a wonderful and exciting hobby for me.
Mama Hen asked me to share a few favorite photos (although she didn't specify a number, and I might have gotten carried away)! :-)
First a few shots of my kiddos. Here's Collin, my oldest: thoughtful, sensitive and sweet.
This is Drew, my middle child. He's goofy, silly, funny and loveable. I tell him he is the cream filling in my Oreo cookie.
The wild senorita in a brief moment of calm.
Now for some more artistic shots.
Whew! Anyone still here? I hope you'll stop back by my blog. Come peek anytime. Three tidbits before you go (you can find more info about these in my menu bar):
I host a blog hop called Touch-up Tuesday where you can show off your editing skills in Photoshop, Lightroom or the editing program of your choice.
I have a blog button business and would love to help you set up a button to advertise your blog, etsy shop, etc.
I'm participating in Project 365, so feel free to click on my button and see my life in pictures.
A big thank you to
Mama Hen
for featuring me on her Little Nestwork. Please go show Mama Hen some love and congratulate her on her new venture! :-)